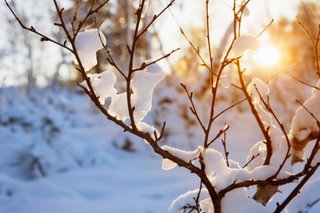 Kate Kooyman at The Twelve ponders the darkness that also accompanies us:
"The light shines in the darkness, and the darkness has not overcome it," Scripture promises. And we are in Epiphany, the season of light. For those of us who find ourselves plunged into darkness, let's take heart: our God is not afraid of the dark. In fact, we serve a God who dwells with us, who stands by us, who even is revealed to us when the light is nowhere to be found.


The darkness is not safe, to be sure. But the thick darkness, too, is where God is.
There's a lot of truth to that, that God is not afraid of the dark, and certainly is not absent in our own darkness. Yet all this comes across as too subjective. Epiphany's light is more objective, a way out of darkness for that community of people seeking God. It is the practice and persistence of proclamation that puts the net below us when we find ourselves in our (subjective) darkness and turmoil.
A light to the path, the dull warmth in winter, the promise of spring, the testimony against despair.
Kate Kooyman, "God in the Dark." Reformed Journal: The Twelve. 17 January 2019.